Estimated reading time: 7 minutes
If you've been watching home prices rise, you may feel priced out of the market. One workaround to this challenge may be a low down payment mortgage or a no down payment mortgage. Many people think 20% down is the norm, but most homebuyers pay much less. A National Association of REALTORS® survey found that the median down payment was 14% among homebuyers they polled in 2022. Among homebuyers ages 24–32, it was even lower, 8%.
This is due to the variety of low and no down payment mortgage options available. Here's a quick overview of four that we offer eligible buyers purchasing single-family homes. As an added bonus, some of these programs allow the use of gift funds toward down payments, which could further reduce costs for qualified borrowers.
Quick Takeaways

Homebuyers: We'll Knock 1% Off Your Rate
& Save You Up to $1,500.
Buy now and we'll drop your rate by 1% for the first year.* Plus, we'll give you up to $1,500 in credit when you refinance later.**

FHA loans
Federal Housing Administration (FHA) loans offer down payments as low as 3.5%. These loans tend to be easier to qualify for and are popular with:
First-time homebuyers
Buyers with little or no credit
Homebuyers who've had credit challenges
They're also known for:
No income limits, meaning they don't cap how much borrowers can earn in order to qualify for a loan.
Allowing non-occupying borrowers to be on loans, if they're related to the main borrower. This means if you're having trouble qualifying for a mortgage, an eligible family member can be a co-borrower on your loan even though they won't live in your new home.
If you opt for this low down payment mortgage option, be aware that the FHA sets county loan limits. These limits restrict the maximum amount homebuyers can potentially borrow. They also vary based on how affordable an area's housing is. They're also usually lower than what other mortgage programs offer. To learn more, visit the FHA Mortgage Limits page.
Some things you'll need to qualify for this loan with Mr. Cooper include:
A middle FICO score of at least 580.
Mortgage insurance—the FHA refers to this as a mortgage insurance premium (MIP) and there are two kinds required:

Monthly MIP: This cost will vary based on your down payment amount and can be reduced if you agree to a loan term of 15 years or less. It can also be removed after 11 years if you put 10% or more down. If you put less than 10% down, you'll have to pay the MIP for the life of the loan.
Upfront MIP (UFMIP): This fee is paid at closing and adds 1.75% to a home loan.

A property that can pass the FHA's strict appraisal guidelines. These require appraisers to inspect for defects, from cracked windows to cracked foundations, to ensure a home is sound.
HomeReady® mortgages
HomeReady mortgages are available through Fannie Mae and require as little as 3% down. As with FHA loans, these mortgages allow non-occupant co-borrowers to help you qualify for your loan, but these borrowers do not need to be related to you. Loans with non-occupant co-borrowers cannot have a loan-to-value ratio of more than 95%, however, which means you'll need to put at least 5% down. In the event you plan to live with a roommate or relative—such as a parent or adult child—they can also be co-borrowers if they qualify.
One requirement HomeReady loans have that FHA loans don't is that borrowers must meet an income limit. This is because they were created with low-income homebuyers in mind. As of July 20, 2019, borrowers typically may not earn more than 80% of the area median income (AMI) based on where the purchased property is located. To compare potential limits, see Fannie Mae's AMI Lookup Tool.
Some things you'll need to qualify for this loan with Mr. Cooper include:
Automated Underwriting System approval. This is used instead of a FICO score. The automated review is a way for lenders to quickly evaluate a borrower.
Mortgage insurance, if you put less than 20% down.

The amount you'll pay for mortgage insurance will vary based on how much you put down.

It can be cancelled once you have 20% equity in your house, if you meet all necessary criteria.

A certificate of completion from Fannie Mae's homeownership education course, if:

You're a first-time buyer who will occupy the house. At least one borrower will need to take the course if all the occupying borrowers are first-time homebuyers.
Homebuyers who meet certain HomeReady education exceptions can complete alternative training or home counseling to satisfy this requirement.
---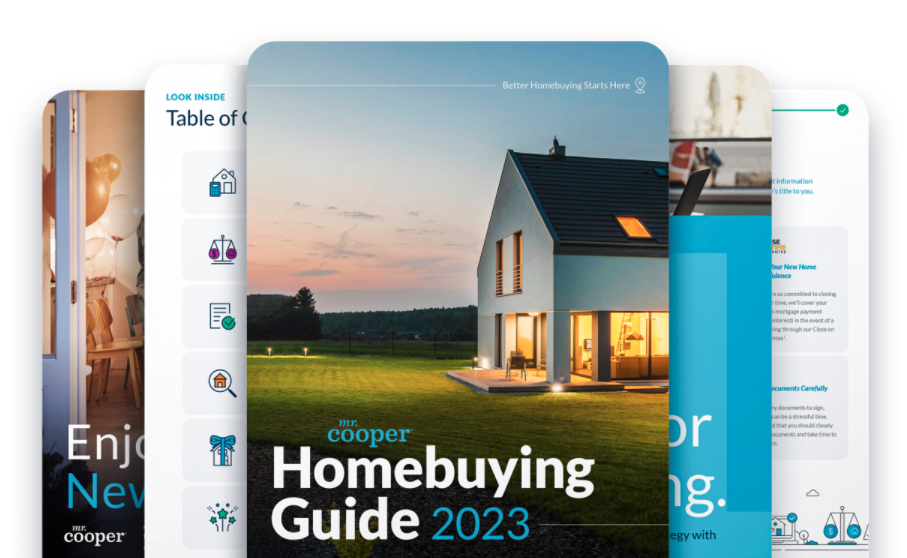 Explore our 2023 Homebuying Guide
---
Home Possible® mortgages
Home Possible mortgages work much the same as HomeReady loans, but they're provided through Freddie Mac. Given how similar the programs are, we recommend consulting one of our Mortgage Professionals to help determine which is best for you. To learn more about Home Possible's income limits, you can use the Home Possible® Income and Property Eligibility Tool.
VA loans
If you're a qualifying service member, veteran, or surviving spouse of a veteran, you may be able to buy a home through the VA with 0% down. These loans are backed by the Department of Veterans Affairs (VA) and are often the best low down payment mortgage option for homebuyers given their range of benefits. These include low interest rates and no requirement for mortgage insurance. This is significant because mortgage insurance is usually charged when you put less than 20% down. Depending on a loan's size, it can add thousands of dollars to a mortgage each year.
One added cost VA loans may include is a VA funding fee. As of April 7, 2023, the fee is equal to 2.15% of a home loan if your down payment is less than 5%, and it's your first time taking out a VA loan. The funding fee can be rolled into your loan so you don't have to pay it out of pocket.
You may also be exempt from the funding fee if you meet certain conditions, such as having a qualifying military-related injury. Sellers can also help you pay some or all of this cost if their contribution is within the VA's guidelines.
Some things you'll need to qualify for this loan with Mr. Cooper include:
A middle FICO score of at least 640.
A full entitlement: If you're not familiar with entitlements, they're a guarantee of how much the VA will pay your lender should you default on your mortgage. The amount of your guarantee can influence how much you can borrow.
A Certificate of Eligibility (COE): VA borrowers present this to lenders to show they're eligible for a VA loan and have an entitlement. You can learn more about COEs via the VA here.
Important considerations
As you weigh these options, bear in mind that when you purchase a home with a low down payment:
It will take longer to pay off your home and build equity.
Your monthly mortgage payment will be higher than it would be with a larger down payment.
Each of these loans requires closing costs totaling 1–3% of a home loan.
Some additional restrictions may apply if you're buying a second home, condominium, or investment property.
For more on down payment and loan options that may suit you best, check out our down payment guide or talk to one of our Mortgage Professionals at 833-702-2511. With the right solution, you may go from priced out of the market to into a new home.
Tradenames and trademarks used in this blog post are the property of their respective owners. Nationstar Mortgage LLC d/b/a Mr. Cooper is not affiliated, associated, or sponsored by any of these owners. Use of these names and trademarks is not intended to and does not imply endorsement, but is for identification purposes only. Information provided does not necessarily represent the views of Mr. Cooper. Information is subject to change without notice.