As temperatures drop, there are some things you can do around the house, like change filters and adjust the thermostat. You can start by doing an energy audit (the U.S. Department of Energy has some tips on how to do one on energy.gov). There are also three new things you could add to your house to save money in winter:
1. Smart Thermostat
While this means spending $100 to $200 upfront, the savings could quickly make up for the price tag. Research different models online, such as Ecobee and Nest (CNET offers a great article reviewing various options here). Many utility companies have rebate programs or special pricing that allows customers to buy the thermostat though a marketplace through their website for a discount. For instance, Georgia Power offers a marketplace with various products such as smart thermostats, lighting, water efficient showerheads, connected home devices, and even EV chargers.
Another great feature that smart thermostats offer is the ability to easily adjust temperatures from an app on your smartphone, so if anything happens while you're traveling or throughout the year, you can make changes. It's also easy to monitor your usage, and the thermostats start to "learn" your preferences so they'll adjust on different days and at different times automatically.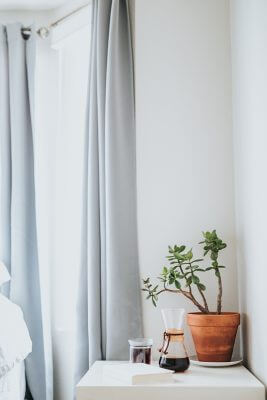 2. Open or Cover Your Windows
Any windows that get sunlight on sunny days can help you naturally heat your home a bit during the winter days, so open those curtains and drapes while the sun shines in. Also, if you have windows or doors that are drafty and you can't spring to replace them all, there are some lower-cost options available. You can use heavy-duty clear plastic sheets or film on the inside of the window frames, sealing it tightly to keep cold air from rushing in as much. Also, you can install tighter-fitting drapes or shades that can help insulate.
3. Use Only LED Lights
Lighting can cost a lot of money — especially if you like to emulate Clark Griswold from Christmas Vacation over the holidays and hang lots of lights. Even the regular lightbulbs in your house can really cost you energy and money. Replacing all of your older bulbs is ideal from an energy efficiency standpoint, but if you want to make things less costly, consider replacing lights in sections of your house every few weeks (or monthly) until you get them all. While LED bulbs are slightly more expensive, as with many energy saving upgrades, they're likely to reduce costs in the long run and last for years to come.