Estimated reading time: 3 minutes
Have you ever received a letter or postcard that says, "You have recently closed on your mortgage with Mr. Cooper. We need you to call us about an important matter regarding this loan. This is time sensitive so please call us at 888-XXX-XXXX." This is an example of a mortgage scam and has nothing to do with Mr. Cooper. Worse, it could be a setup to get your personal information or cash. Here's what you need to know.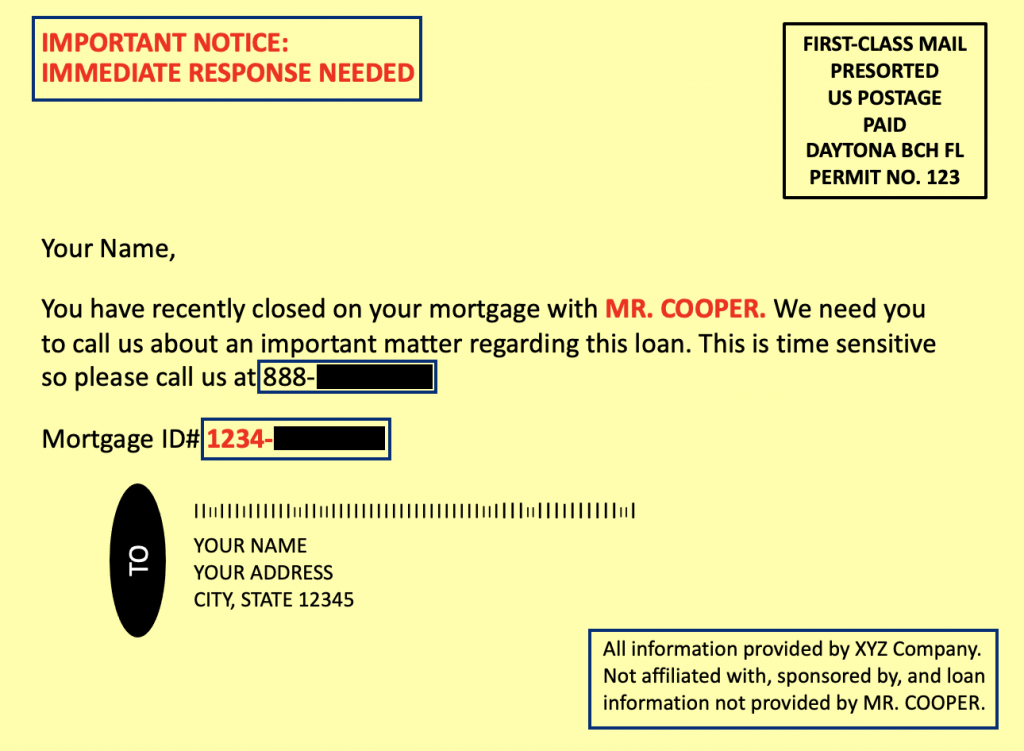 How do mortgage scams work?
These scams work on a few levels:
First, the communication will try to give you a sense of urgency. Notice that it says "IMPORTANT NOTICE: IMMEDIATE RESPONSE NEEDED" in red at the top of the example. It also says that this is a "time sensitive" matter.
Second, they may list your Mortgage ID number to gain your trust. In reality, anyone can look up Mortgage ID numbers once the mortgage is recorded in the public record of the county. Additionally, some scammers will list a number that's way off.
Third, they're vague. It's not clear who sent the communication or what the "important matter" is about. That is purposely done to encourage you to call.
What gives the scam away?
There are a few ways to know that these aren't from Mr. Cooper:
First, we never send mail with your loan information printed on the outside.
Second, the phone number that's listed isn't an official Mr. Cooper number. For example, our main customer service number is 833-685-2565.
Finally, the message in the bottom right-hand corner clearly states the information listed isn't from Mr. Cooper. Instead, it says, "All information provided by XYZ Company. Not affiliated with, sponsored by, and loan information not provided by Mr. Cooper."
How to report a mortgage scam
If you're a Mr. Cooper customer, please notify us is one of the following ways. If possible, send a picture of what you received.
Additionally, if you've been a victim of a scam, there may be ways to get your money back and protect your personal information. Financial options may be as simple as contacting your bank or wire transfer company or asking the U.S. Postal Inspection Service to "intercept" anything you've mailed. Learn more in the FTC's article "What To Do if You Were Scammed."