First-time homebuyer or repeat buyer, we've got you covered. Here are some of our top homebuying tips from credit scores and down payments to choosing a real estate agent or builder.
---
Homebuying Basics
Getting a Mortgage
Here are pointers on preparing paperwork, lowering a down payment, and what to expect if you've got a new job or student loans.
Mortgage Calculators
If you're planning for a future mortgage payment, our mortgage calculators are a great place to start crunching numbers.
Real Estate Tips
Check out these resources for tips on choosing a real estate agent, winning a bidding war, and saving money on your move or sale.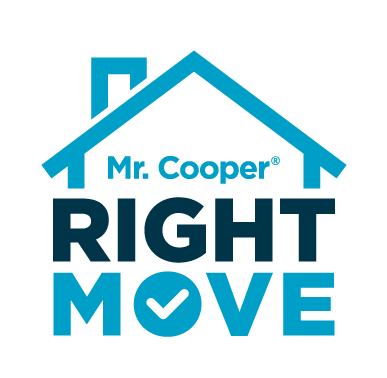 Selling or buying? With Mr. Cooper RightMove, you can't go wrong.
Take the stress out of buying and selling with Mr. Cooper RightMove, your all-in-one toolkit for the homebuying journey. From instant Pre-Approval to guaranteed closing,* we have the tools to help you make your best move yet. Heck, we'll even pay for your local move.**
*Mr. Cooper® Close On Time Guarantee Terms and Conditions.
The Mr. Cooper® Close On Time Guarantee offers assurance to customers purchasing a home with a Mr. Cooper home loan that the home loan will close on or before the contract closing date, or the customer will receive a check equal to their first month's principal and interest payment ("Guarantee Payment"). The customer is still responsible for making all scheduled loan payments according to the loan documents. For NY customers, this may be subject to attorney availability and requires Mr. Cooper approval.
Eligibility: To be eligible for the Mr. Cooper Close On Time Guarantee,
(1) The customer must:
(a) submit a complete application for a purchase money home loan product directly to Mr. Cooper;
(b) provide a fully-executed purchase contract which must include all pages, addendums, and required signatures;
(c) provide all requested supporting documentation (including income/asset verification documents) needed to make a loan decision and signed initial loan disclosures within 24 hours of submitting the home loan application or within 24 hours of request by Mr. Cooper. All required documents must be submitted electronically using Mr. Cooper's online portal, Loan Tracker; and
(d) remain responsive with any further requests from Mr. Cooper and third party settlement service providers (such as appraisers and inspectors) in connection with the processing and underwriting of the home loan by providing any required documentation, access to property, or other response within 24 hours of request; and
(2) The home loan application must be for a first lien, owner-occupied, conventional mortgage loan product. This offer does not apply to VA, FHA, non-conventional, or non-QM home loan products.
(3) All required appraisals and an acceptable home inspection must be received 10 days before the Guaranteed Closing Date. Title work must be completed 5 days before the Guaranteed Closing Date. Sufficient funds to close must be verified 5 business days before the Guaranteed Closing Date. All required approvals from third parties (e.g. HOA, Condo certifications, etc.) must be received 5 days prior to the Guaranteed Closing Date. If home purchase is dependent on sale of home, proceeds from home sale must be received same day or before the Guaranteed Closing Date. For home loans to be secured by new construction, Mr. Cooper must receive a completed Final Inspection and/or certificate of occupancy at least 72 hours prior to the Guaranteed Closing Date.
Guaranteed Closing Date: The purchase contract closing date ("Guaranteed Closing Date") must be at least 21 calendar days after the date that the customer submits the complete mortgage application, purchase agreement, and all requested initial supporting documentation (including income/asset verification documents) to Mr. Cooper's Loan Tracker portal. If the home loan does not close on or before the guaranteed closing date (subject to these terms and conditions), the customer will receive the Guarantee Payment in the form of a check following the home loan closing. The customer is responsible for any tax liability related to participating in the program and should consult a tax advisor if there are any questions about their personal tax situation.
Important Restrictions: The Mr. Cooper Close On Time Guarantee will not apply if: (1) an existing home loan application has been submitted by borrower involving same subject property address as of May 19, 2019 (2) changes are made to the original closing date as documented in the purchase agreement; (3) changes are requested to the loan amount, product, or terms requested within 10 days of the guaranteed closing date; (4) there are changes to borrower's income, employment, or debt from time of application to closing; (5) closing date extensions are due to a delay in completion of new construction, improvements, or property repairs; (6) either borrower or seller fails to meet purchase contract terms and requirements including seller-related delays, (7) home loan transaction involves a Co-op, CEMAs, or requires two or more appraisals, and/or (8) delay in closing is due to force majeure events including weather, or natural disaster.
Mr. Cooper reserves the right to amend, terminate, or withdraw the Mr. Cooper Close On Time Guarantee at any time without prior notice.
**Zero Dollar Move Terms and Conditions
Zero Dollar Moves ("ZDM") not available in all zip codes and are for local moves only – a single local address within 50 miles of the zip code of the existing property address on file with Mr. Cooper. To qualify for a ZDM, customers must prequalify for a new Mr. Cooper purchase loan by August 31, 2022 and the loan must close by September 30, 2022. One incentive per loan. Move must occur after closing of the new Mr. Cooper mortgage loan.
ZDM are arranged and provided by Bellhop, Inc. or its subsidiaries/affiliates ("Bellhop"). ZDM are subject to Bellhop's Terms of Service and Privacy Policy. Customer must agree to Bellhop's Terms of Service, Privacy Policy and any additional terms required by Bellhop. Mr. Cooper is not responsible or liable to customers for any conduct of Bellhop, its agents, or personnel.
ZDM includes a minimum of two movers and a moving van to move and transport from origin to destination. Certain services not included in ZDM, including but not limited to packing, packing materials, appliance disconnect/reconnect, furniture disassembly/assembly, live plant moving, hazardous materials moving, moving heavy or oversized items (safes, pianos, and more), additional stops, and additional personal property insurance. The cost and availability of these items varies by market. Contact Bellhop for specific details and costs. Customer is responsible for accurately estimating the volume of items to move so that appropriate number of vans and movers are assigned to the move. If volume is underestimated, move may be delayed and customer may incur additional costs.
You are not required to use ZDM to obtain a mortgage from Mr. Cooper.
ZDM may require a minimum of a 7 to 21 days' notice to Bellhop (depending upon the market and time of year) prior to move. If adequate notice is not provided, Bellhop may decline service and customer waives rights to this offer.
Zero Dollar Moves are not available in all areas. No substitutions. Terms and conditions of offer move may change at any time at the sole discretion of Mr. Cooper or Bellhop.