Estimated reading time: 4 minutes
Have you ever wondered what kind of jobs those with excellent communication and interpersonal skills have? Or wondered who's on the other end of the line when calling your mortgage servicer?
If you answered "yes" to either question, you'll love learning about Henry and Lauren, two agent leaders in Chandler, Arizona, who embody our Mr. Cooper culture, as champions for our customers.
Henry Barksdale
Manager Customer Service – Chandler, Arizona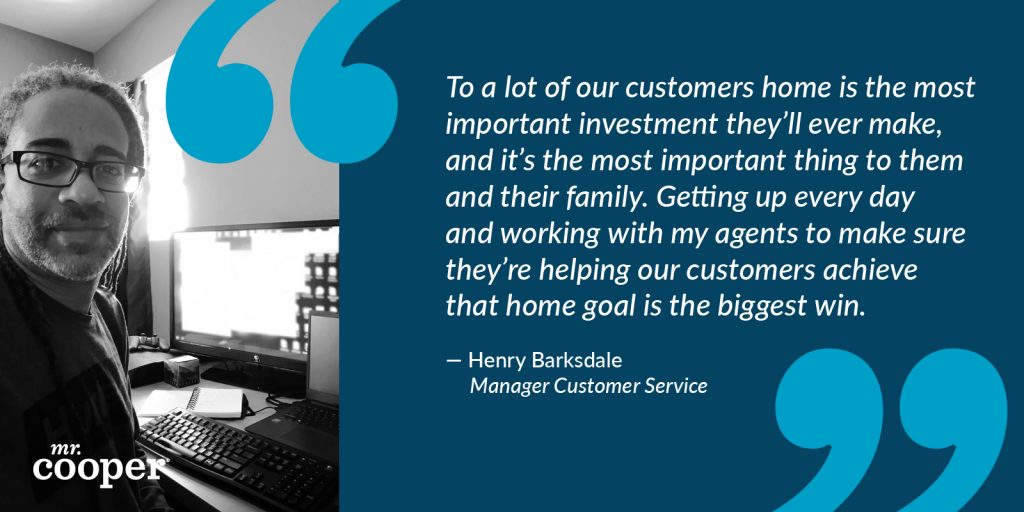 I am coming up on my two-year anniversary working at Mr. Cooper this December. I was trained in the call center for customer service and now have 15 direct reports that take calls from customers and help them to make payments and understand the mortgage process. What has always stood out to me is how from the leadership down to the call center, this company is full of genuine people who just want to make the customer experience better. It always comes back to keeping the dream of homeownership alive. The first call I ever had after my training was with a woman who had just paid off her 30-year mortgage. She was crying tears of joy, and it made me realize how important home was to so many people. To a lot of our customers, it is the most important investment they'll ever make, and it's the most important thing to them and their family. Getting up every day and working with my agents to make sure they're helping our customers achieve that home goal is the biggest win.
Another thing that has always stood out to me is how our company makes sure the voices of their team members are heard. Not only do we want everyone to come to the party with their invitation in hand, we want everyone to have a say in how music is played and how the party goes. The community conversations we've been having as a company have been incredible for my team to better understand the customers they talk to on an ongoing basis. Mr. Cooper understands not only the importance of listening but making sure that those voices are being heard.
Lauren Dunmon
VP Collections/Customer Service – Chandler, Arizona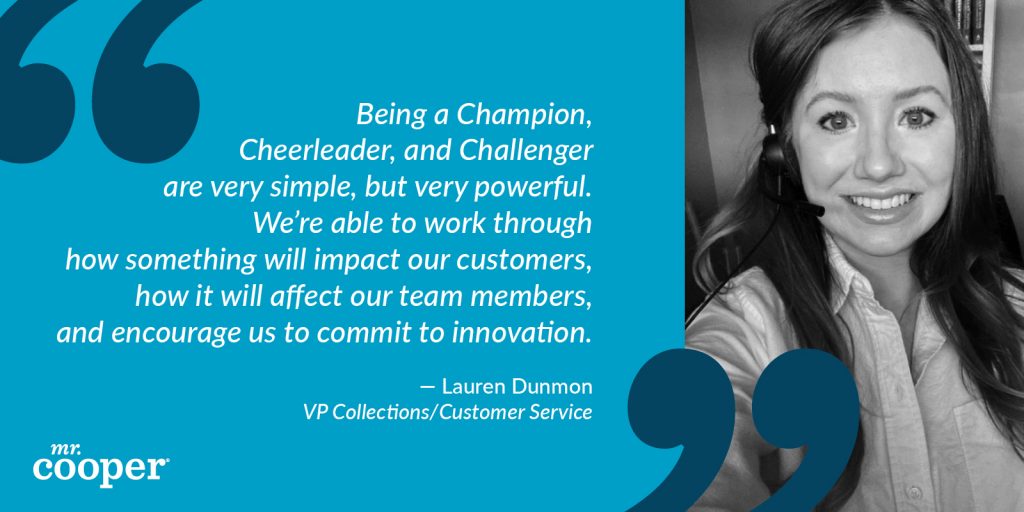 I've been very lucky to have worked with this company for nine years now in customer service. I have been able to develop an amazing sense of community and family and feel fortunate to learn and grow from the talented team members around me. I love to work through challenging situations and our company does a great job of empowering people to come up with new solutions to make our processes more streamlined and efficient. It all centers around our clearly defined core values and we really do live by them. Being a Champion, Cheerleader, and Challenger are very simple, but very powerful. We're able to work through how something will impact our customers, how it will affect our team members, and encourage us to commit to innovation.
Since I'm in the call center and customer facing, my greatest accomplishment comes back to how we approached the pandemic. It has brought unprecedented challenges to our company, the industry, and most importantly our customers. We've been able to help over 38,000 customers move into a permanent solution to keep their homes which has been very meaningful to take part in. This has been a scary time for a lot of homeowners, so it's important that our customer service agents make that burden their own to reduce the stress of our customers. It all comes down to being genuine, understanding, and caring about the situation people are going through. Our core values remind us of these traits and help us to keep the dream of homeownership alive for all Mr. Cooper customers.