Estimated reading time: 3 minutes
They say that in every challenge lies an opportunity. For Jack Palmer III, Loan Processor at Mr. Cooper, this has proven to be true.
Jack started a career in the mortgage industry in 2003. In 2018 he was laid off from his previous employer after the company lost their contract. Although a setback at the time, today Jack sees this twist of fate as an event that brought great fortune to his life by helping him achieve more financial success than he ever imagined.
Check out Jack's interview for career inspiration and an inside look at what it's like to work at Mr. Cooper!
Jack Palmer III
Loan Processor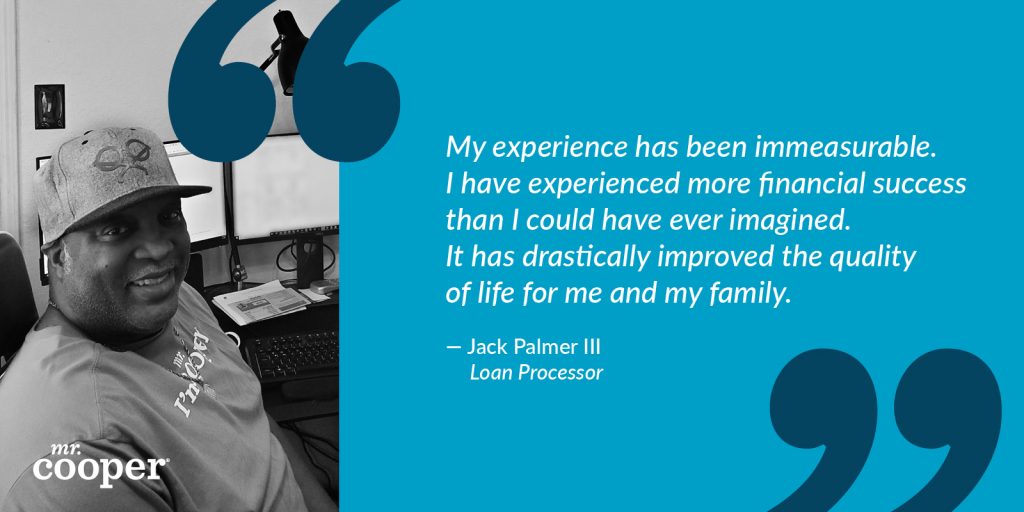 What were you most excited about upon making your decision to join the Mr. Cooper team, and in retrospect, how has your experience at Mr. Cooper compared to your initial expectations?
I was a contractor with my previous employer and they were a contractor for another company which led to me getting laid off. I was excited to have the opportunity to work for an employer that was refinancing, managing, and servicing their own loans. My experience has been immeasurable. I have experienced more financial success than I could have ever imagined. It has drastically improved the quality of life for me and my family.
What would you tell others who are on the fence about making a move to Mr. Cooper?
I would advise anyone contemplating employment with Mr. Cooper to take the leap of faith and join a company that will change their lives forever.
Compared to other companies you have worked for, what makes Mr. Cooper unique?
I love the fact that we can earn commissions on every paycheck instead of once a month. Mr. Cooper also takes care of their employees. During the pandemic we were provided cleaning services as well as free meals. Mr. Cooper also provided assistance with childcare expenses. Multiple contests have been organized to award prizes and gift cards based on performing as a top producer.
If someone was starting in your position at Mr. Cooper, what are three pieces of advice you would share to help them succeed in the role?
I would say that three things that can help with their success are hard work, to trust the process, and to focus on excellent customer service.
What are some professional goals you have set for 2021?
My goal in 2021 is to just continue to work hard to be the top producer and to help as many customers as I can continue to enjoy the dream of home ownership.