After finalizing the details of their mortgage and signing on the dotted line, the last thing that homebuyers want is a bout of buyers' remorse. Those who bought a house for the first time might not have had a lot of knowledge about the process before going into it, and there are also some missteps that are only avoidable with more experience. According to a recent survey by Mr. Cooper, there are a few common regrets about buying a home that you can learn from (and try to avoid when it's your time to buy).
1. Buying A "Fixer Upper" They Couldn't Fix
The biggest mistake among recent homebuyers who responded to our survey was that they bought a fixer upper that they ultimately couldn't fix up (34%). While home flipping rates reached a nine-year high in early 2019, buying a home that needs a substantial amount of work before it's livable or in good condition to resell isn't for every homebuyer. Whether you're considering purchasing a home that needs a facelift or a more substantial demo, make sure to do your homework and crunch the numbers to estimate what you can afford.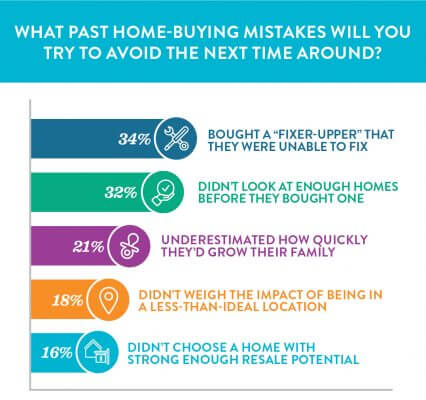 2. Not Shopping Around
Results of our survey showed that 32% of respondents felt like they didn't look at enough homes before they bought one—a big mistake. It's wise to do your research on things like neighborhoods, home values, and resale potential as soon as you find a home or area where you want to buy. Shopping around for the best home loan is equally important, and it's often beneficial for buyers to assess the lending landscape to find the option that makes the most sense. The truth is that there are a lot of different programs designed for all types of borrowers, and the more time new homeowners spend learning about what options and programs they have available, the better off they will be in the long run.
3. Wiping Out Savings
Buying a home is very exciting. The process of waiting for the right time and saving the necessary money can take years. Another big regret among 21% of respondents to our survey was that they'd wiped out their savings or rainy-day fund to finance their home purchase. And while the temptation to jump into homeownership can be a very strong one, homebuyers can often benefit from pumping the brakes. Among respondents to our survey, 13% underestimated their closing costs, 9% couldn't comfortably afford the home they purchased, and another 9% didn't understand or properly estimate their property taxes. Good rules of thumb are to carefully budget and save more than you think you need, and to educate yourself about the costs associated with obtaining and maintaining a home loan.
4. Not Choosing The Best Mortgage Lender
In addition to shopping around for the best mortgage, homeowners should spend the extra time with their mortgage broker or loan officer to understand the specifics of their loan—because according to our survey, 24% of respondents said that not choosing the best mortgage provider was a mistake. Building a relationship with your lender is a crucial part of the homebuying process, and things always seem a little easier when you have a real person you can talk to and ask questions. A savvy mortgage pro can also ensure that the moving parts of your loan are handled correctly, and that you get the best rate and terms available to you.
5. Underestimating How Quickly They'd Outgrow A House
Among new homeowners who responded to our survey, 21% said that their families grew more quickly than they'd anticipated when buying their house, leaving them suddenly short on space. And while closing on your mortgage is just the beginning of your homeownership journey, smart buyers think ahead—and, to some extent, expect the unexpected.
No matter where you are on your journey to homeownership, Mr. Cooper can help. If you're gearing up to buy, get in touch with one of our mortgage pros to learn about your home loan options or get prequalified.