Amazon Prime Day®—the 48-hour global online shopping event where Prime members can shop hundreds of exclusive online deals—is happening this year on July 15 and 16. Aside from benefits like exclusive discounts, fast delivery, and big savings, Prime Day can be a great time to snag deals on electronics, home furnishings, and even groceries.
Whether you've just moved into a new home or want to add a few things to the house you already have, here's a handy guide for homeowners on what to buy come Prime Day 2019.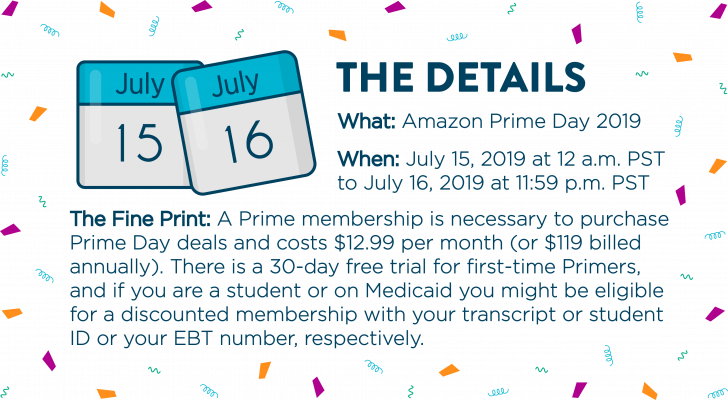 Home Furnishings
Amazon launched its home furnishing label Rivet® in 2017, and Prime Day shoppers can get pieces from the mid-century collection for up to 20% off. Whether you're looking for planter pots, ceiling fans, light fixtures, home accents, or heavier furniture, this exclusive sale is worth taking a peek.
Electronics
For some, the highlight of Amazon Prime Day is all about the discounted gadgets—and there is certainly no shortage of tech for shoppers to choose from. And while electronics is a big category that will remain largely secret until Prime Day begins, here are a few deals for homeowners that we're excited about:
Kitchen Gadgets
If you are in the market for kitchen utensils or small appliances, Prime Day deals have you more than covered. Here are some of our favorite kitchen finds:
Kid Stuff
If you have kids or grandkids, Prime Day is a great occasion to shop for toys, clothes, and baby accessories at a big discount. If you're looking to get a leg-up on holiday shopping or need to refresh a kid's bedroom, there are plenty of Prime Day deals for you!
Everyday Essentials
Amazon will be offering savings of up to 30% on its private label brands, so you can snag deals on everything from paper towels and trash bags to pet food and over-the-counter medicines. If you need to restock your pantry, medicine cabinet, or store of cleaning supplies, Prime Day could be a great day to do it with a few of these finds:
The names and trademarks used in this advertisement are the property of their respective owners. Nationstar Mortgage LLC d/b/a Mr. Cooper is not affiliated, associated, or sponsored by any of these owners. Use of these names and trademarks is not intended and does not imply endorsement but is for identification purposes only.
Information provided does not necessarily represent the views of Mr. Cooper, and the use of third party names and trademarks does not imply endorsement. Information is subject to change without notice.