Each March, Women's History Month gives us an opportunity to celebrate, recognize, and reflect on the accomplishments of women — including those who work at Mr. Cooper.
In honor of all women and as part of our Cooper Culture series, we asked members of our Women's Network group to share their experiences and female role models, and talk about how those ladies have shaped and guided their lives both at home and at Mr. Cooper.
Here's what a few of them had to say:
Karyne Nguyen, AVP, Servicing Risk and Compliance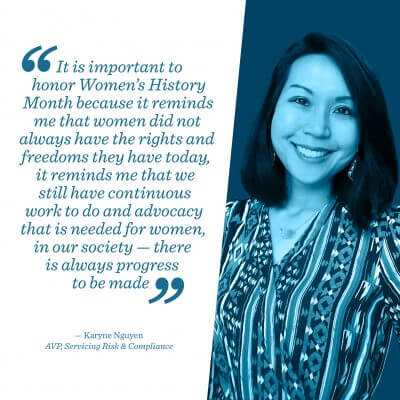 Who is one of your female role models and why?
My mom is a strong, amazing woman that I look up to and learn from every day. While I was growing up, she balanced work and life well, always working hard in her career while also being present as a mother and confidant. Today, she provides me guidance and pushes me to be strong, confident, and always bring forth who I am for others to see. I seek to make her proud every day and to always show gratitude for how she raised me.
Any advice for your fellow ladies?
Always remain true to yourself, while also being open to develop and grow. I think it goes a long way to be a genuine person and to know what values and ideals drive you in your life and career. When you are secure in who you are as a person, it provides a good foundation to build upon and to become the best version of yourself.
What's your favorite quote?
"If you can dream it, you can do it." – Walt Disney
I like that this message promotes that no dream or aspiration is too big or out of reach. While it may take a special combination of events to get there, you do not need to limit yourself to what you can achieve in life.
What would you tell your younger self or what would you like your older self to tell you now to help you through a personal or professional challenge?
Trust the journey — take in every experience to learn from it and become better. In the moment the trials and obstacles you may encounter are difficult, but they will undoubtedly help you grow as a person. At the same time, be thankful for each success and pay it forward in any way you can.
How can women help other women reach each other's potential?
I think inclusivity plays a big role in women helping women reach their potential. When you are open minded and bring others in to the conversation, it empowers people to bring forth their perspective and have their voice be heard. It is also important to lift each other up — take time to celebrate each other's successes and support each other's endeavors.
Why do you think it's important to honor Women's History Month?
It is important to honor Women's History Month because it reminds me that women did not always have the rights and freedoms that they have today, along with taking time to recognize the people that helped bring about change for women. At the same time, it reminds me that we still have continuous work to do and advocacy that is needed for women. In our society there is always progress to be made.
What does a day of work look like for you and how do you spend your time outside of work?
A day of work is always unique but is focused on overseeing risk & compliance matters that relate to any changes in state laws and regulations. I am often meeting with my partners on the Servicing Operations, Legal, Risk, and Compliance teams to discuss how we can successfully implement processes and procedures to ensure that we create the ideal experience for our customers. Outside of work, I volunteer in the North Texas community and enjoy learning about different non-profit organizations and their missions to serve the community. I am also involved in Diversity and Inclusion initiatives at Mr. Cooper, so I dedicate time to plan and prepare for different programs that can serve our team members, Mr. Cooper, and the community. I also enjoy doing design and craft projects.
Lynley VanSingel, VP of Learning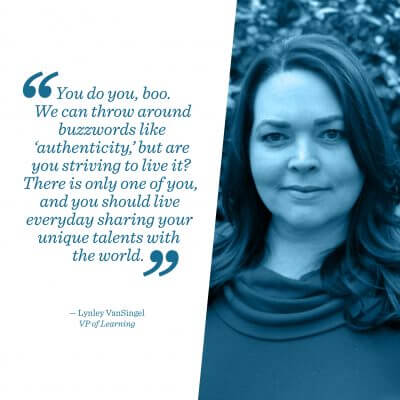 What motivates or drives you?
Experience. I want to do & feel "all the things," from travel to love to accomplishments in life. Climb the ladder? I am halfway up! Travel to Peru? Sign me up! I live my life personally and professionally so that I can enjoy all of the experiences — good, bad, and ugly.
Who is one of your female role models and why?
My daughter, Ada Lyric, age 9, is my role model. She lives her life with unfiltered joy, a thirst for learning, and unconditional love of all people, animals, and lizards. I am inspired daily by her unique perspective and get-up-and-go.
Any advice for your fellow ladies?
You do you, boo. We can throw around buzzwords like "authenticity," but are you striving to live it? There is only one of you, and you should live every day sharing your unique talents with the world.
What's your favorite quote?
"Find out who you are and do it on purpose." — Dolly Parton.
This speaks to me because it took me into my 30s to decipher between who I was and who others wanted me to be. Once I understood this and began to live intentionally, happiness flowed.
How do you start your day?
Every day before my feet hit the floor, I write a note/card/snail mail to someone I appreciate. My Cooper teammates, family, and friends have received cards from me. (This is also why I am the gal you come to if you ever need a stamp.) A twist on the traditional gratitude journal, I love sending notes that share my thanks with those who receive them.
What would you tell your younger self or what would you like your older self to tell you now to help you through a personal or professional challenge?
There is strength in kindness. Some people will make you feel that this is a weakness, and it will be hard for you to operate from a kind position. But continue to do it. Kindness will be your super power. PS: Everything will be A-OK, and Mom and Dad will get you that car for graduation!
Who's one person who has believed in you since day one?
My mom. She has been my cheering squad, promoter, and advocate since day one. She is down to earth, humble, and true to herself. While I am a big thinker, vibrant, and quirky, she never let our differences get in the way of her support for me. When she had trouble relating to me as a child, she tapped into her tribe to make sure that I had the tools and resources that I needed. She is my person — the one I call when I get the big promotion, and the one I call when I hit a speed bump. Her love, strength, and support are what has shaped me into the person I am today.
How can women help women reach each other's potential?
Knowing that there is enough room for all of us! We have mountains to climb together and places where we need to keep pushing boundaries. Believe in the women around you and shine a light on their leadership capabilities so that you can bring other women with you along the way.
What advice would you give to women in your field?
Imagine bigger! Be the first woman in your family to graduate from college. Be the first woman you know to start their own business. Be the CEO of a mortgage company. You don't need someone to model it before you — be the one who models what women can do and be for others.
Who is a woman you believe everyone should know about, and why?
Louisa May Alcott, author of Little Women, was an amazing character and ahead of her time. She was a feminist and abolitionist, and she also ignored the norms that society placed on women of her generation. Refusing to marry, she took her unique childhood experience where she was surrounded by literary greats (Emerson, Hawthorne, and Thoreau) and created a writing career. She wrote of controversial topics during her time, and she is remembered as a voice of her generation. We can all be inspired by her choice to pave her own path.
What does a day of work look like for you and how do you spend your time outside of work?
Every day for me looks different. The Ops Learning team gets to welcome new team members into Mr. Cooper and teaches them how to do their job. When my team does their job well, we make it look fun and easy! But behind the scenes, there are projects to manage, relationships to build, and learning programs to create. I spend my time with both operations leaders and my team to make sure we are in sync to deliver stellar learning programs that align with our business operations. For me, this means traveling to all of our locations, driving team development and engagement, and keeping my finger on the pulse of Mr. Cooper by meeting with team members and leaders every day.
Outside of work, I spend my time building community for my family (Eric, my husband; Ada, my daughter; and Lemon Juice, our French Bulldog). I approach my community activity with the same tenacity that I do my work; I am the Den Leader for my daughter's Cub Scouts den, a PTA board member, and I serve on several community groups for Gifted & Talented children. I believe that whether at work or in our personal lives, leaning into your community will allow you to influence and advocate for yourself. I also love to travel with my family, enjoy the arts (concerts, plays, movies, museums), and practice hand-lettering. I do ALL the things!
Samantha Shiller, VP, Servicing – Vendor Oversight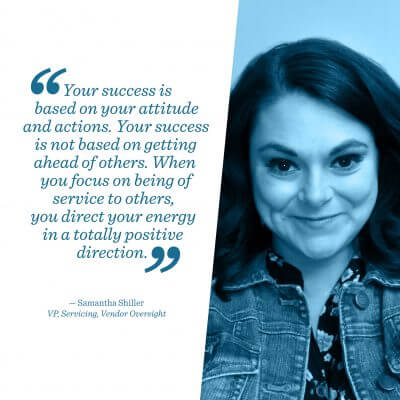 What motivates or drives you?
Continuous learning drives me, whether it's learning a new process, taking a leadership class, or just a good book. I have even been known to enjoy reading newly published investor regulations, quarterly earnings reports, or the (MBR) monthly business review. Yup, I'm a dork.
Any advice for your fellow ladies?
Seize any opportunities that come your way — even if it is something you aren't good at or that might make you uncomfortable. These moments will flash by. You will have met tons of new people, have learned and conquered something new, and suddenly now you are more well-rounded. That is when the opportunities start to flood in, and that is a good problem to have.
How do you end your day?
Every night at dinner, we (myself, my son Aiden, 4, my daughter Avery, 3, and my husband, Rob) go around the table and talk about the peak and pit of our days. You get some pretty funny stories from the kiddos, and it's a great way to reflect on your own day.
What would you tell your younger self or what would you like your older self to tell you now to help you through a personal or professional challenge?
The hard moments will pass. What you and other people will remember is not what happened, but how you handled the difficult time. Always keep your integrity, don't step on people, and never bend your morals. You will come out on top every time.
How can women help women reach each other's potential?
Your success is based on your attitude and actions. Your success is not based on getting ahead of others. When you focus on being of service to others, you direct your energy in a totally positive direction.
What advice would you give to women in your field?
If you tend to be shy, try your best to overcome it. Take it a step at a time, but work at it. It is a gift to get to know new people, especially those who are different from you in some way. Pushing yourself out of your comfort zone may be painful for a time, but the benefits are everlasting.
Nita Patel, AVP, Servicing Offshore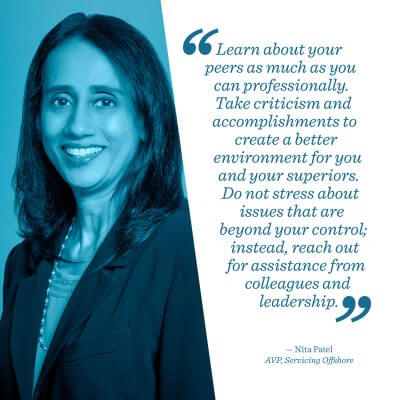 What motivates or drives you?
I am motivated by the fact that at the end of the day, I know I've helped make a difference for the people around me, be it a quick conversation when they are feeling low or cheering on my team because of the accomplishments of the day. I try to draw a connection between my efforts and the team I worked with — all of which drives me to give it my all for everything I do in life.
Any advice for your fellow ladies?
Everyone wants to be successful; of course, there is no exact formula for success except perhaps an unconditional acceptance of life and what it brings. You have succeeded in life when all you really want is only what you really need.
What's your favorite quote?
We learn and grow and are transformed not so much by what we do, but by why and how we do it. And the rest is, "what is meant to be will find its way."
How do you start your day?
With prayer and a positive attitude to try making today better than yesterday.
What advice would you give to women in your field?
Learn about your peers, as much as you can professionally. Take criticism and accomplishments to create a better environment for you and your superiors. Do not stress about issues that are beyond your control; instead, reach out for assistance from colleagues and leadership.
What does a day of work look like for you and how do you spend your time outside of work?
I try to plan and schedule my day before leaving my home in the morning. Of course it doesn't always go as planned, but I keep some 'contingency' time in both my pockets so I am not caught up in damage control. There are days where not all is accomplished, but I refuse to complete a task haphazardly. There is always tomorrow to start with a fresh mind to tackle that problem. My time outside of work is very valuable, because it is spent with my family and that means the world to me. I thought that when the kids moved away it would be difficult for me to communicate with them; however, with today's technology I am able to connect with my daughter half-way around the world on a regular basis, and, of course, my son is just a hop, skip, and a jump four-hour drive away. Most precious moments and memories are made with my husband as we grow older together.