Every year we honor those employees that truly live out the core values day in and day out. To celebrate Mr. Cooper's first birthday, we asked a few employees who truly embody Mr. Cooper's core values —being challengers of convention, champions for our customers, and cheerleaders for our team. Here's what they had to say about being a Cooper, as well as how our mission as a company impacts their daily lives.
Victoria Akinpelu: Mortgage Professional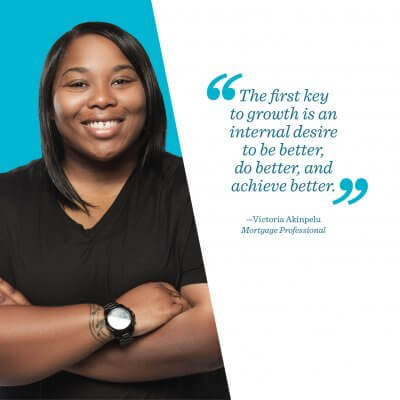 What are some trademark characteristics of a champion?
You must be resilient and have integrity. You have to always do the right thing no matter what and fight the good fight. The road less traveled is always the hardest but it has the best view! Champions appreciate the journey to the destination and understand that you learn much more in failure than you do in success!
How does a person grow as a champion, professionally or personally (or both)?
The first key to growth is an internal desire to be better, do better, and achieve better. Without the want to grow you will never grow. The personal pursuit of knowledge and life wisdom can teach you much more than any book or class. When you strive to be the best person you can be your personal and professional life will follow.
What does "home" mean to you, & how does that meaning motivate your work?
Is it too cliché to say home is where your heart is? I believe this whole heartedly. Home isn't just where you lay your head – it's a sense of comfortability that you can only find in certain places. Home can be where you live, where you work, or even a place in the world. Mr. Cooper treats employees like family – so when I am here I am home. When you appreciate your employment, you are always motivated to achieve your best performance. We deal with the biggest asset of most of our customers lives. We cannot take that for granted.
Jody Furtney: VP, Post Closing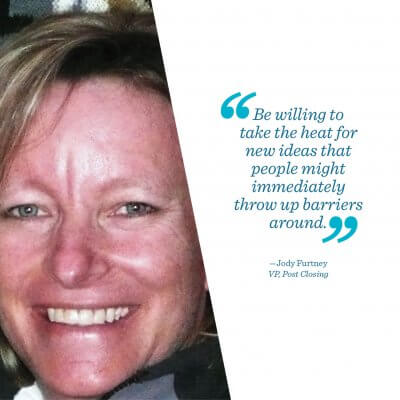 What does challenger mean to you?
It means always being open to new ideas even if they don't align with preconceptions about what "should" happen. Often when we are uncomfortable is when we grow the most and have amazing successes to show for it.
How does a person grow as a challenger, professionally or personally (or both)?
Be willing to take the heat for new ideas that people might immediately throw up barriers around. Inject humor into a tense situation to get past roadblocks. Be optimistic always. This too shall pass.
Who in your life has been a challenger for you? Share a story.
My husband Seth was hit by a car 10 years ago while he was riding his bike. We were three months in the hospital having him learn to walk and talk again. All through this, he never lost his optimism that we would make it through. When I'm hitting a hard patch at work, I always think back to that time and realize it's surely not as hard as it was then. And that thought helps me get through tough problems.
Maria Lamas: AVP, Associate General Counsel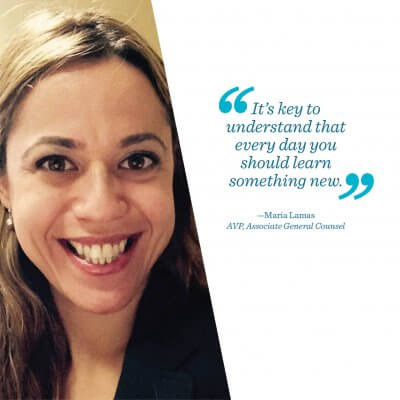 How have Mr. Cooper's core values affected your work?
The core values have really helped me prioritize my everyday work. It has really encouraged me to be creative, to think outside the box when looking at a problem and trying to find a solution. To not just take the status quo but to challenge the way we do things and the reasons why we do them. It has also helped me recognize the core values in others and has made me grateful for co-workers who work hard every day to embody these values.
How does a person grow as a champion, professionally or personally (or both)?
I think its key to understand that every day you should learn something new, either by seeking out opportunities, finding sources of education (reading materials or seeking a mentor), or learning from your co-workers. We are simply never done learning and the more we know the more we grow both professionally and personally. Another way to grow, is to treat others like you want to be treated.
Who in your life has been a champion for you? Share a story.
My mother is the biggest champion I know. She moved us here from Argentina on her own, with a high school education and without speaking English to build a life for my siblings and I. She has worked our whole lives to give us more than she's ever had. She has fought for every little and big thing we have, and she has taught me never to give up and to fight and work to make dreams come true.
Sudhin Varghese: VP, Engineering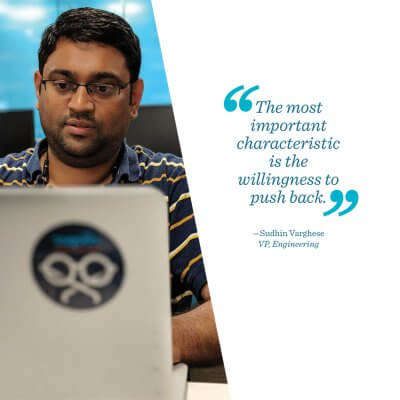 What are some trademark characteristics of a challenger?
The most important characteristics is the willingness to push back. That willingness to stand their ground but push effectively with empathy is a key ingredient to be a good challenger.
How does a person grow as a challenger, professionally or personally (or both)?
Stop accepting things by face value. Always look for optimizations and challenge yourselves or the team to think differently.
What does "home" mean to you, & how does that meaning motivate your work?
Home is a place which helps you get charged up by providing the much-needed recipe of love, support and togetherness.
Brooke Marion: Sr. Principal, Social Media Community Manager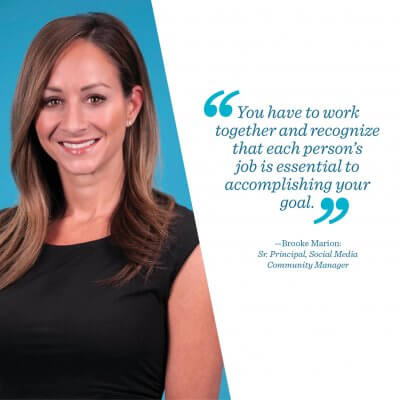 What does being a challenger mean to you?
A challenger is someone who isn't afraid to step out of their comfort zone to use their voice, and sometimes challenge the norms – especially when they are fighting for something (or someone) they believe in. If I'm asked to do something that I don't agree with, I am not afraid to speak up, but more importantly I try to offer an idea or solution to improve the process, because otherwise I'm just complaining. I may not win every battle, but in the end, I know I contributed to the greater good by participating in the conversation.
How has the core values affected your work?
Mr. Cooper's core values reflect the values that I've tried to live my entire life, both personally and professionally. The customer is the life blood of every business, and whether you keep this at the forefront of every decision you make will determine whether you ultimately succeed or fail. Being a challenger ties closely into being a champion for your customers because there may be times you ask yourself: "am I doing this because it's best for the customer, or because it's best for me?" I always ask that one question before I challenge or push back on something. If the answer is "it's best for the customer", then I keep going. But, if I can't see that in the foundation of my job, then I say "hey, I think there may be a better way." Just as importantly, if your team isn't on the same page or their goals are not aligned to work toward a common goal, then that's going to come through to your customer. I always use the analogy of the 4×100 relay race in track & field. No matter which leg you are responsible for running, if you drop the baton during the handoff, the team can't win. You have to work together and recognize that each person's job is essential to accomplishing your goal.
Who in your life has been a challenger for you? Share a story.
My 13-year-old stepson, Khamari. He not only challenges me to be a better parent, but he truly inspires me to be a better PERSON. I feel like we've developed a bond that goes beyond stepmom/stepson, but one of friendship and shared understanding that I've come to rely on. I love telling him about my ideas, and he comes to me when he needs collaboration on his own projects. We stayed up until 2am the night before a big science project was due, and we were exhausted, but we had the best time together (and he got an A+)!. He thinks "outside the box" and with a level of maturity and empathy towards others that takes years to develop in most people.
Christen Reyenga: VP, Corporate Communications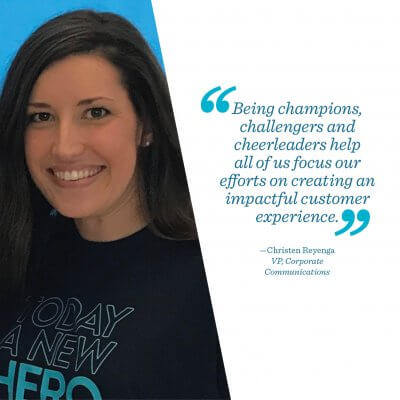 What does being a cheerleader mean to you?
Being a cheerleader means you promote the efforts of your team – celebrating successes, building camaraderie and stepping in to support your teammates.
How have Mr. Cooper's core values affected your work?
The Mr. Cooper core values are simple but meaningful. Being champions, challengers and cheerleaders help all of us focus our efforts on creating an impactful customer experience. When making a decision, it's easy to ask yourself if your following the guidelines of our core values.
What does "home" mean to you, & how does that meaning motivate your work?
Home to me is all about family and comfort. It's about being around the ones I love most and having a space to relax and unwind. The meaning of home can be very powerful, so it's pretty great that I get to work for a company that helps people achieve their homeownership dreams.
Colleen Edmundson: AVP, Corporate Communications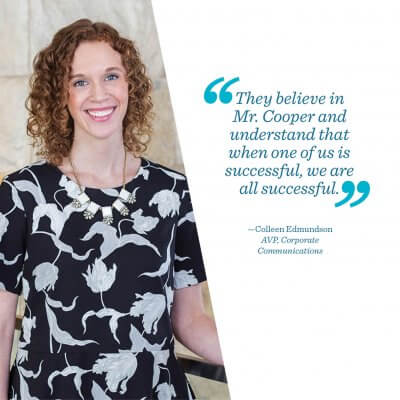 What are some trademark characteristics of a cheerleader?
A cheerleader is someone who will get their hands dirty and do whatever needs to be done to reach a solution, and they will do it with a positive attitude. They believe in Mr. Cooper and understand that when one of us is successful, we are all successful. We are all in this together, and a cheerleader embraces that whole heartedly in everything they do.
Who in your life has been a cheerleader for you? Share a story.
My husband Jason has been my biggest cheerleader. Having a career and being a mom is hard work and so difficult to balance. He always pushes me to do more and continue to grow my career, and when it means late nights or long hours, he makes sure our son is taken care of. I could not have achieved my success without his continued support.
What does "home" mean to you, & how does that meaning motivate your work?
Having moved many, many times in my life, I don't see home as a place or physical structure. To me, home is where you feel comfortable, where you can relax and destress. I feel at home at my house, at my parent's house and often at the homes of my friends and family members. Home is the feeling of being safe and surrounded by love and laughter.